After being married for 35 years, some days we're more life partners than lovers, more roommate than romance. We have worked out a rhythm and trust I wouldn't trade for anything, but it's pretty predictable.
A couple of weeks ago, I woke early on a Saturday. Two hours later my husband came down.
I greeted him with "Good morning."
Then I hit him with "I have a ton of work to do this weekend and I have that thing tomorrow, so I won't be much fun. But we can go out to eat if you want."
He rolled his eyes. "Why would I expect any fun. Is it wet out? I have to mow and it's supposed to rain in a few hours."
I'm married to a weather watcher.
We chatted logistics. I'd move my car. He'd put gas in the mower. I'd walk the dog.
Fifteen minutes later, I came around, walking the dog into the garage. He popped through the doorway, one hand behind his back.
"Happy anniversary, honey." He whipped out a flower from our weigela bush.
Suddenly I was exactly 36 years in the past. I glimpsed the man who had picked me up for our first date: wavy blond hair, broad shoulders, and a bud vase with a single red rose in his hand.
"Sorry I didn't have a rose," he said.
"I love it," I said, right before I kissed him.
I went inside to give my pink bloom some water.
My husband the romantic started up the mower.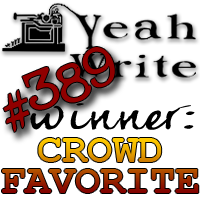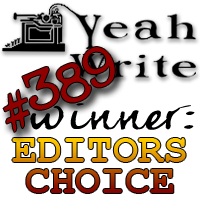 I shared this honor with an amazing essay by Amuse-Douche.